Méldoies Françaises
---
---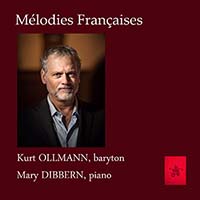 Mélodies Françaises - Kurt Ollmann, Baryton et Mary Dibbern, Pianiste (2018 rel; CD recording)
Contains
1. Ernest Chausson: Cantique à l'épouse, op. 36, no. 1 (1898; Jounet)
2. Jules Massenet: Nuit d'Espagne (1872; Gallet
3. Guillaume Lekeu: : Sur une tombe, no. 1 du recueil Trois poèmes (1892; Lekeu))
4. Georges Bizet: : Chanson d'avril (1866; Bouilhet)
5. Emmanuel Chabrier: Ballade des gros dindons (1889; Rostand)
6. Claude Debussy: Paysages belges - chevaux de bois, no. 4 des Ariettes oubliées (1885; Verlaine)
7. Gabriel Fauré: Arpège, op. 76, no. 2 (1897; Samain)
8. Emile Paladihle: Psyché (1887; Corneille)
9. Georges Enescu: Du conflit en douleur, op. 15, no. 7 des Sept chansons de Clément Marot (1908; Marot)
10. Louis Aubert: Aigues-Marines, no. 3 des Trois mélodies (1919; Vivien)
11. Georges Auric: Le Gloxinia, no. 2 des Trois interludes (1918; Chalupt)
12. André Caplet: Forêt, no. 5 du Vieux coffret (1917; Gourmont).
13. Maurice Ravel: Ronsard àson âme (1924; Ronsard)
14 Jean Binet: Devant la guérite, no. 1 des Quatre chansons de C. F. Ramuz (1927; Ramuz)
15. Albert Roussel: Coeur en péril, op. 50, no. 2 (1934; Chalupt)
16. Henri Sauguet: La Jeune fille de Budapest, no. 2 de l'Espace du dedans (1965; Michaux)
17. Jacques Leguerney: L'Adieu (1947; Apollinaire)
18. Francis Poulenc: Montparnasse (1945; Apollinaire)
19 Yvette Guilbert/Fréd de Faye-Jozin: La Crinoline, no. 8 des Dix chansons de Paul de Kock (cir. 1927; Kock)
The complete notes are on this page
JTBProd (Catalogue #JTBProd011)

Available here :
Euro 12,95 (plus Euro 4,50 frais de port)
and from your local record dealer and all online sources where recordings are sold.
Select an online location for purchase:
---
Notes :
What a joy to assemble this bouquet of songs fromthe rich and fascinating repertoire of nineteenth andtwentieth century French mélodie. This is the music that first inspired me to become a singer and remains closest to my heart after more than forty years. Early on, Mary Dibbern and I decided to choose a single song from each composer, as a way of making the task less daunting. From the elegant sensuality of Fauré's Arpège to the irresistible fauxnaivety of Auric's Gloxinia, the emotional and narrative landscapes of this music come from a world unexplored by other song traditions.
Early examples, with clear roots in the tradition of the romance, such as the Chanson d'Avril of Bizet and Nuits d'Espagne of Massenet, reveal their composers' great melodic gifts and sophisticated approach to strophic writing. These songs are a joy to sing.
So many great songs were inspired by the poetry of Paul Verlaine. Is there any more enchanting or sui generis than Chevaux de bois from the Ariettes oublieés? Interpreters can't avoid the very particular sensation of being caught up in the dizziness and intoxication of the poem and the musical setting. I have always felt an affinity for Debussy's approach to setting the French language and for his vocal writing. I felt another kind of connection to him when Dalton Baldwin told me that the composer's step-daughter Dolly had listened (approvingly, I gather) to a radio broadcast in which I sang Pelléas.
I was introduced to Chabrier and the Ballade des gros dindons, with its cheeky quotation from Mozart, as well as Roussel's playful Coeur en péril, through the definitive recordings by Pierre Bernac and Francis Poulenc. When I later worked with Bernac, he spoke of the centrality of legato to French singing style ("the vowels are the music") as well as the need to be able employ bad taste tastefully.
Gérard Souzay's magnificent recordings with Jacqueline Bonneau and Dalton Baldwin were also an immeasurable influence on my musical life. Through them I came to love so many songs, notably Caplet's masterpiece Fôret and Chausson's Cantique à l'épouse, an opportunity to sing of enduring, mature love rather than the youthfully passionate or unrequited kind. Although he was certainly a man of intellect, Souzay told me he was an "instinctive" interpreter and encouraged me in the same direction.
Aigues-marines, by Louis Aubert, caught my eye in a drawer of old sheet music in Geneva, when I was living there in my early twenties. I have never found any written reference to it or heard of anyone singing it, but I love its voluptuous text and sinuous vocal line. It was also in Geneva that I became aware of the songs of Swiss composer Jean Binet. Devant la guérite is a wonderful little rustic soliloquy.
I came across Lekeu's Sur une tombe, a setting of a text by the composer himself, while preparing a program of "Songs of the Belle époque and the Gilded Age" with pianist Jeffry Peterson. I then joined the ranks of those who wonder what the gifted Belgian composer might have accomplished had he not died at age 24. The sincerity of this tribute to undying love in the face of early death makes for a beguiling song.
Although for years I had seen it listed in the table of contents of the Kalmus 40 French Songs, Vol 1, I first heard Psyché by Paladhile in an unforgettable live performance by Lorraine Hunt Lieberson and Steven Blier. It is yet another jewel of the repertoire.
Steven Blier also introduced me to Yvette Guilbert's cabaret song, La Crinoline. We include it as an (unrequested) encore.
Ronsard à son âme, though modest, is surely one of Ravel's best songs. Its spare harmonies and simple melody beautifully express both the Renaissance period of the poem and the timeless wisdom of the epitaph itself.
Enescu's setting of Marot's Si j'ay du mal is another twentieth century treatment of a poem from the Renaissance. My teacher Yolanda Marculescu, a great interpreter of the French repertoire, introduced me to her countryman's Sept Chansons de Clément Marot. For me, his shapely musical response to the courtly texts puts him in the first rank of mélodie composers.
Jacques Leguerney, a dapper and charming gentleman, is the only one of these composers whom I actually knew. Mary and I have performed and recorded many of his songs and spent delightful hours working with him in his elegant apartment on the rue de Madrid in Paris. His music deserves to be better known. Adieu is one of his very few collaborations with a modern poet. In a few bars, he creates a truly haunting musical setting for the brief Apollinaire lyric.
I did meet Henri Sauguet briefly, when he was one of my judges an in a mélodie competition in Paris. We were required to include one of his songs in our program. Ironically, pianist Gérard Lutz and I were awarded the Sauguet prize "for the best duo" even though I chose La jeune fille de Budapest, which is for unaccompanied voice. The mysterious text and fitting musical setting made an indelible impression.
Another Apollinaire setting is Poulenc's Montparnasse. It is unlikely that I will ever be consigned to a desert island, with or without a fine pianist and a good piano, but if I were and had to choose a single mélodie to take along, it would be this one. The poet's tender evocation of his youth in Paris is brought to musical life by the composer's incomparable magic. The result is achingly emotional without ever straying into sentimentality.
My hope with this recording, as I contemplate the inevitable day when I retire from singing, is to remain in the conversation about this exquisite little branch on the tree of French culture. It has brought me much comfort and delight.
Thanks to Connie Haas and Diane Lane who first suggested that I develop such a project.
---
Notes en Français :
Quelle joie de constituer ce bouquet de chansons du riche et fascinant répertoire de la mélodie française du dix-neuvième et du vingtième siècle. C'est cette musique qui m'a inspiré à devenir chanteur classique. et qui, après quarante ans, m'est toujours aussi chère. Dès le départ, Mary Dibbern et moi avons décidé de choisir une seule mélodie par chaque compositeur, afin de rendre notre tâche moins intimidante. De la sensualité élégante de l'Arpège de Fauré à la fausse naïveté charmante du Gloxinia d'Auric, les paysages affectifs et narratifs de cette musique viennent d'un monde inexploré par d'autres traditions de la musique vocale.
Les premiers exemples, enracinés dans la tradition de la romance, comme la Chanson d'Avril de Bizet et les Nuits d'Espagne de Massenet, révèlent les dons mélodiques de leurs compositeurs, ainsi que leur approche sophistiquée de la composition strophique. C'est une joie de les chanter.
La poésie de Verlaine a inspiré tant de superbes mélodies. Y a-t-il plus enchanteur ou sui generis que Chevaux de bois des Ariettes oubliées ? Les interprètes ne peuvent s'empêcher d'être pris d'un vertige, de l'ivresse du poème et de son style musical. J'ai toujours eu une affinité pour la façon dont Débussy met en musique la langue française ainsi que pour son écriture vocale. J'ai ressenti une autre affinité encore quand Dalton Baldwin me dit que Dolly, la belle-fille du compositeur, avait entendu (et apprécié, si je comprends bien) mon interprétation de Pelléas en radiodiffusion.
C'est à travers les enregistrements finaux de Pierre Bernac et Francis Poulenc que j'ai découvert en premier lieu : la Ballade des gros dindons de Chabrier avec sa citation audacieuse de Mozart, et en second lieu : le Cœur en péril, composition enjouée de Roussel. Plus tard, lorsque j'ai travaillé avec Bernac, il parlait du rôle central du legato dans le style français du chant ("les voyelles sont la musique") ainsi que de la nécessité d'employer le mauvais goût avec bon goût.
Les magnifiques enregistrements de Gérard Souzay, en collaboration avec Jacqueline Bonneau et Dalton Baldwin, ont eu une influence inestimable sur ma vie musicale. Grâce à eux, j'en suis venu à aimer tant de mélodies, notamment Forêt, le chef-d'oeuvre de Caplet, et Cantique à l'épouse de Chausson : une occasion de chanter l'amour qui perdure, l'amour sage et non l'amour passionné ou non réciproque de la jeunesse. Souzay, bien qu'étant un homme d'intellect, me dit qu'il interprétait de façon instinctive et m'encouragea à faire de même.
J'ai découvert par hasard Aigues-Marines, de Louis Aubert, dans un tiroir de vieilles partitions à Genève où j'ai passé une partie de mes vingt ans. Je n'ai jamais déniché de référence écrite à cette musique, et ne l'ai jamais entendu chanter par qui que ce soit, pourtant j'adore son texte voluptueux et sa ligne vocale sinueuse. C'est également à Genève que j'ai appris à connaître)les chansons du compositeur suisse Jean Binet. Devant la guérite est un merveilleux petit soliloque rustique.
J'ai connu Sur une tombe de Lekeu, une mise en musique du texte écrit par lecompositeur lui-même, lorsque je préparais un programme sur "Les chansons de la Belle époque et du 'Gilded Age'" avec le pianiste Jeffry Peterson. C'est alors quej'ai rejoint les rangs de ceux qui se demandent ce que ce compositeur belge, sidoué, aurait pu accomplir s'il n'était pas mort à 24 ans. La sincérité de cethommage à l'amour immortel face à la mort prématurée attribue à cette chanson est particulièrement touchante.
Bien que je l'aie vu depuis des années dans la table des matières du Kalmus 40 French Songs, Vol 1, j'ai entendu Psyché de Paladhile pour la première fois lors d'une interprétation inoubliable par Lorraine Hunt Lieberson et Steven Blier. Voilà une perle supplémentaire du répertoire. C'est aussi Steven Blier qui m'a fait connaître La Crinoline, une chanson de cabaret d'Yvette Guilbert. Nous l'y inclurons en guise de bis (non réclamé, bien sûr).
Quoique modeste, Ronsard à son âme est certainement une des meilleures mélodies de Ravel. Ses harmonies sobres et sa ligne de chant si simple expriment bien l'époque du poème ainsi que la sagesse éternelle de l'épitaphe elle-même.
La mise en musique par Enescu de Si j'ay du mal de Marot est une autre interprétation par le vingtième siècle d'un poème de la Renaissance. Ma professeure Yolanda Marculescu, une grande interprète du répertoire français, m'a fait connaître les Sept Chansons de Clément Marot de son compatriote. A mon avis, son harmonieuse réponse musicale aux textes courtois le place au premier rang des compositeurs de la mélodie.
Jacques Leguerney, un monsieur charmant et pimpant, est en fait le seul de ces compositeurs que j'ai eu le plaisir de connaître. Mary et moi avons interprété et enregistré un grand nombre de ses mélodies, et nous avons passé de très agréables heures dans son élégant appartement de la rue Madrid à Paris. Sa musique mérite d'être mieux connue. Adieu est une de ses rares collaborations avec un poète moderne. En quelques mesures, il crée une musique réellement envoûtante pour le court poème d'Apollinaire.
Il est vrai que j'ai fait la connaissance, en passant, d'Henri Sauguet quand il était un des juges à un concours de mélodie auquel j'ai participé à Paris. On nous avait demandé d'inclure l'une de ses chansons dans notre répertoire. Paradoxalement le pianiste Gérard Lutz et moi avons reçu le prix Sauguet du "meilleur duo", bien que j'aie choisi d'interpréter La jeune fille de Budapest, écrite pour voix sans accompagnement. Cette musique qui allait parfaitement au texte mystérieux laissa une impression indélébile.
Montparnasse de Poulenc est une autre partition à partir d'une poème d'Apollinaire. Il est peu probable que je sois un jour exilé sur une île déserte avec ou sans pianiste d'excellence. Mais si jamais c'était le cas, et si je devais choisir une seule mélodie à emmener avec moi, je choisirais celle-là. La tendre évocation de sa jeunesse à Paris par le poète prend vie à travers la magie incomparable du compositeur. Il en résulte une émotion poignante qui ne va jamais trop loin dans la sentimentalité.
Songeant au jour inévitable où je devrai partir à la retraite, j'espère continuer, avec cet enregistrement, à faire partie de la conversation qui a pour sujet cette petite branche exquise de l'arbre culturel français. Branche, qui m'a toujours apporté beaucoup de réconfort et de plaisir.
Je tiens à remercier Connie Haas et Diane Lane, les toutes premières à suggérer que je conçoive un tel projet.
---
Artist biographies/biographies des artistes :
KURT OLLMANN, BARITONE Kurt Ollmann came to prominence singing Riff on the DG recording of West Side Story under Leonard Bernstein. He sang Pelléas at La Scala, Milan and also appeared with the opera companies of Vienna, Rome, Santa Fe, Seattle, Washington and Los Angeles and with New York City Opera. He has presented song recitals at London's Wigmore Hall and in Paris, Barcelona, and New York and various other European and North American cities and festivals. He has sung with the London Symphony Orchestra, L'Orchestre de Paris, the New York Philharmonic, and with the orchestras of Boston, Baltimore, Philadelphia and San Francisco, among many others. Among his many recordings are Gounod's Roméo et Juliette with Placido Domingo, a Grammy award-winning version of Bernstein's Candide and Ravel's L'Heure Espagnole under Previn. He has premiered many new American works and was one of the original performers of THE AIDS QUILT SONGBOOK.
Kurt Ollmannn a connu la célébrité dans le rôle de Riff dans la version discographique de West Side Story, sous la direction de Leonard Bernstein. Il chante Pelléas à la Scala de Milan et se joint à de nombreuses compagnies d'opéra à Vienne, Rome, Santa Fe, Seattle, Washington, Los Angeles et avec le New York City Opera. Il a donné de nombreux récitals, au Wigmore Hall (Londres), ainsi qu'à Paris, Barcelone, New York et dans de nombreux d'autres villes d'Europe et ses Festivals. Il s'est produit avec le London Symphony Orchestra, l 'Orchestre de Paris, le New York Philharmonic, et avec les orchestres de Boston, Baltimore, Philadelphie et San Francisco parmi bien d'autres. De ses nombreux enregistrements, nous retiendrons particulièrement son role de Mercutio dans "Roméo et Juliette" de Gounod avec Placido Domingo; le "Candide" par Bernstein récompensé par un Grammy; ainsi que l'"Heure Espagnole" de Ravel sous la direction de André Previn. Il a créé de nombreuses œuvres américaines et fut l'un des premiers artistes du "AIDS QUILT SONGBOOK."
---
Mary Dibbern is Music Director of Education for The Dallas Opera. After being graduated with the Master of Music from SMU, she lived in Paris, France for thirty-one years where she studied with Nadia Boulanger, Pierre Bernac and Gérard Souzay. Her long European career included coaching for the Opéra National de Paris, as well as all of the major French companies and major venues worldwide. She is in demand as a master class teacher and lecturer and prepares musical editions for Musik Fabrik (Paris), Classical Vocal Reprints (USA), and Editions Max Eschig (Paris). Pendragon Press has published her eight books on French music and composers. Her recording labels include Harmonia Mundi France (Paris), Claves (Switzerland), Magelone (Paris) and Toccata Classics. Dibbern has collaborated with Kurt Ollmann for numerous recitals in the US and Europe. They recorded mélodies by Jacques Leguerney for Harmonia Mundi France under the composer's supervision and Lotte Lehmann: To Honor Her Legacy, a CD issued by Arabesque Recordings.
Mary Dibbern est Music Director of Education à The Dallas Opera depuis 2012. Après son Masters of Music à Southern Methodist University, Dallas, Texas (E-U) elle s'installe à Paris pour y vivre trente et un ans. Elle étudie alors avec Nadia Boulanger, Pierre Berrnac et Gérard Souzay. Sa longue carrière européenne la fera devenir chef de chant à l'Opéra National de Paris ainsi que de nombreuses compagnies françaises et du monde entier. Elle est invitée à donner des master class et participe à la révision ou à l'édition musicale pour les édition Musik Fabrik ( Paris), Classical Vocal Reprints (USA), et Max Eschig (Paris); Pendragon Press a edité ses huit livres sur la musique française et ses compositeurs. Elle enregistre, entre autres, des mélodies pour Harmonia Mundi France (Paris), Claves (Switzerland), Magelone (Paris) et Toccata Classics (Londres).Elle a par ailleurs donné de nombreux récitals avec Kurt Ollmann aus E-U et en Europe. Ils ont enregistré pour Harmonia Mundi France les mélodies de Jacques Leguerney en présence du compositeur et un hommage à Lotte Lehmann chez Arabesque Recordings.
---
English Translations of Song Texts by Kurt Ollmann:
---
remerciements/credits :
Enregistrés le 27-29 novembre 2017 à First Presbyterian Church, Savannah, Georga (E.-U.)
Piano Steinway avec l'aimable autorisation du First Presbyterian Church.
Accord et entretien du piano : Lawrence Parrish
Producteur et directeur artistique de l'enregistrement : Kurt Ollmann
Assistant producteur de l'enregistrement : William Lavonis
Prise de son : David Siu
Montage et mixage sonores : Adaq Khan, Emperic Sound
Producteur du projet : Paul Wehage
Producteur exécutif : Jean-Thierry Boisseau
Traductions : Kurt Ollmann
Livret et documentation: Mary Dibbern
Photos : Bryan Stovall
Remerciments : Lisa Gasbarrone, Kay Tawema
---