Johannes Brahms: Late Piano Pieces
---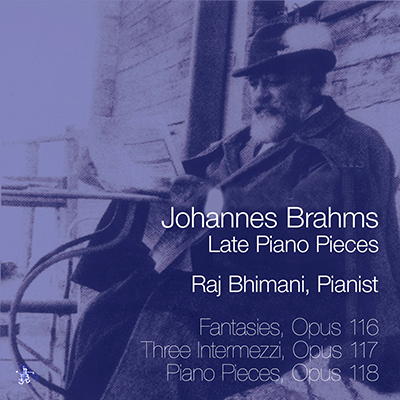 Johannes Brahms : Late Piano Pieces (2013 rel; CD recording)
Contains Fantasies, Opus 116, Intermezzi, Opus 117, Piano PIeces, Opus 118
Raj Bhimani, piano


JTBProd (Catalogue #JTBProd003)

Available here :
Euro 9,95 (plus Euro 4,50 frais de port)
and from your local record dealer and all online sources where recordings are sold.
Select an online location for purchase:
---
Notes
Brahms composed his last four collections of works for the piano during the Summers of 1892 and 1893. Clara Schumann called this cycle of works "a treasury of masterpieces". This recording presents the three collections of Fantasies, Opus 116, Intermezzi, Opus 116 and Piano Pieces, Opus 118.
The cycle of "Fantasies" in the Opus 116 are symphonic in character, with a more extroverted, energetic character. The 3 Intermezzo of Opus 117 are more intimate, on a much smaller scale than the more massive works of the Opus 116. Brahms called these three Intermezzi "the cradles of my sorrows" in a letter to Clara Schumann during their composition. These pieces were inspired by the Scottish poem "Lady Ann Bothwell's lament" as translated by Herder. It has been theorised that the third intermezzo was inspiried by the poem "Victor Galbrfaith" by Longfellow.
The six pieces of Opus 118 are more diverse in their atmospheres and forms (4 Intermezzi, a Ballade and a Romanze). Brahms was also at work on his series of works for the clarinet (two sonatas, the trio and the quintet)) at the same time he was working on this cycle, and it would seem there are stylistic similarities between these six pieces and the works for clarinet. The last Intermezzo (in the key of Eb minor) is a sort of long, tragic meditation which seems to be a cousin of the slow movements in the symphonies of Mahler.
---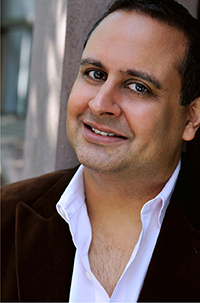 Pianist Raj Bhimani's concerts are "virtuosic, heartfelt and eloquent," writes New York Times critic Michael Kimmelman. Time Out NY noted him for being a "gifted and highly expressive pianist." Mr. Bhimani performs regularly across North America and Europe. His performances have been broadcast on Indian National Radio and Television, Portuguese National Radio, and on WQXR and WHUS Radio in the United States. Recent New York performances include Merkin Concert Hall, the 92nd Street Y, St. Paul's Chapel, and Saint Peter's Church, where he performs frequently. Mr. Bhimani also appeared on the inaugural season of Baruch College's Engelman Recital Hall, where he returned recently with clarinetist Anna Maria Baeza and cellist Eliot Bailen, and at the Tenri Cultural Institute, where he performed with acclaimed mezzo-soprano Katherine Ciesinski. Additional successes include Montreal, La Jolla, and Idaho State University, where his playing was lauded for "combining a searching intellect with emotional sensitivity and drama."

In Europe, Mr. Bhimani plays annually on the Atelier Concert Series at the American Church in Paris. He recently presented his 27th annual recital on that series. He has also performed at the Salle André Marchal in the same city. He has toured Portugal and Italy, and recently gave a highly celebrated concert in the Komitas Chamber Music Hall in Yerevan, Armenia. This past season Mr. Bhimani appeared for the second time at New York's Lincoln Center for the Performing Arts and has been invited back for the 2012-2013 season. In December he will be touring India, presenting concerts and masterclasses in different parts of that country.

Mr. Bhimani is a champion of new music, and has developed particular expertise in French piano literature. He has worked closely with composer Henri Dutilleux, who declared him "a great artist who performs with sensitivity and intelligence." Composer Thérèse Brenet, moved by Mr. Bhimani's performance of her previous work, composed for him To the West Wind, which Mr. Bhimani premiered in 2001, Never, Never More, which he premiered in 2005, and Avec des éclats dor&aecute;es d'éspérance, which was first heard in 2008. She recently completed Three Preludes, which had their first hearings in 2009.

Mr. Bhimani has built a strong reputation as an educator and has taught at the 92nd Street Y School of Music, New York University and Concordia College. In addition to a very busy private studio in New York, he is in great demand across the country for his educational outreach programs, which include master classes, private coaching for both soloists and chamber ensembles, and lecture-demonstrations, as well as lectures on French piano literature. Mr. Bhimani's teaching methods establish a strong foundation of technical and musical skills, guiding students from beginners to concert-level performers, and he is a frequent judge and lecturer on piano pedagogy. He currently serves on the board of The Leschetizky Association, an organization committed to upholding the great pedagogue's ideals of beautiful tone production and musical integrity.

Follow Mr. Bhimani's activities at his website, www.RajBhimani.com, or become a fan on Facebook.
---
Selon Michael Kimmelman, critique musical du New York Times, les concerts du pianiste Raj Bhimani sont "virtuoses, sensibles et poétiques". Bhimani donne des concerts à travers l'Amérique du Nord et l'Europe. Ils sont régulièrement diffusés par la Radio/Télévision Nationale de L'Inde, la Radio Nationale du Portugal et sur WQXR et WHUS aux états-Unis. Thérèse Brenet, compositrice (1er Grand Prix de Rome) impressionnée par l'interprétation par Bhimani d'une de ses œuvres a composé cinq pièces pour piano à son intention :
To the West Wind
, crée en 2001,
Never, Never More
, crée en 2005,
Avec des éclats dorés d'éspérance
, crée en 2008,
Trois Préludes
, crées en 2009 et plus récemment
Double-mixte
avec le compositeur Jean-Thierry Boisseau, œuvre originale puisque "paritaire" qui sera crée bientôt par ses soins.
---
Recorded by Joe Patrych at Patrych Sound Studios