Maurice Ravel: Piano Works/Oeuvres pour Piano
---
---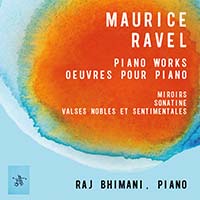 Maurice Ravel: Piano Works/Oeuvres pour Piano (2018 rel; CD recording)
Contains
Miroirs, M.43
1. Noctuelles
2. Oiseaux Tristes
3. Une Barque Sur L'océan
4. Alborada Del Gracioso
5. La Vallée Des Cloches
Sonatine, M.40
6. Modéré
7. Mouvement De Menuet
8. Animé
Valses Nobles Et Sentimentales, M.61
9. Modéré - Très Franc
10. Assez Lent
11. Modéré
12. Assez Animé
13. Presque Lent
14. Vif
15. Presque Vif
16. Épilogue: Lent
The complete notes are on this page
JTBProd (Catalogue #JTBProd012)

Available here :
In Europe: Euro 12,95 (plus Euro 4,50 frais de port)
In North America $14.95 (plus $4.95 shipping)
and from your local record dealer and all online sources where recordings are sold.

Select an online location for purchase:
---
Raj Bhimani describes his introduction to this music:
One of the biggest inflection points in my life happened at age 22 when I moved to Paris. I had just completed my Masters Degree at the Peabody Conservatory in Baltimore and my piano teacher there suggested I continue my studies in France with a colleague who had just served with him on the jury of the Tchaikovsky Competition in Moscow. My teacher had witnessed and encouraged my strong interest in French repertoire, and he made the suggestion with such conviction that I knew he truly believed this would be the best choice I could make. His exact words were, "She's the perfect teacher for you. I'll write to her tonight." And he did.
When I recount this story to my students I preface it by explaining that this happened before the internet. I couldn't just take out my phone and learn about this teacher in Paris. I wrote her a letter and mailed it with a recording of my graduation recital, then jumped up and down when I heard back that she'd accepted me as a student. I later understood what a rare invitation this was. I bought a one-way ticket to Paris and watched my life transform.
After arriving I learned that this wonderful teacher, Nicole Henriot-Schweitzer, was one of the greatest pianists of the 20th Century. She was a child prodigy born in 1923. Her lessons began at age 6, and half a year later she was performing four-hand concerts with Ravel. They performed Ma Mere l'Oye eleven times, with her playing the secondo part and operating the pedals she could barely reach. She told me stories of how nervous Ravel would get before every concert and how she had to push him onto the stage. I wish I could have seen that!
After those performances she and Ravel stayed in contact until his death in 1937. He adored children. Madame Henriot had the opportunity to study some of the pieces on this album with him. She played the entire Sonatine for him as well as parts of Miroirs. When studying the second piece from Miroirs, Oiseaux Tristes (Sad Birds), 7-year-old Nicole insisted Ravel tell her what kind of birds they were and why they were sad. After reflecting a moment he told her they were the kind of birds that lived by the sea for part of the year, and they were sad because it was time to leave. Of course this was a different story than he told to other pianists who played that piece for him; he created a story especially for this precocious child.
Madame Henriot guided me as I first learned the three pieces on this album. I hadn't studied any of them before my work with her, so she was able to help me develop a sense of the proper style for this music from the outset. I've had three decades since that time to make these pieces my own, programming them frequently in recitals. I'm pleased to have the opportunity to share these cherished works with a wider audience through this recording.
---
Complete Album Notes:
Three Masterpieces for Piano by Maruice Ravel
The French composer and pianist Jean Françaix loved to tell the story of Maurice Ravel and his friend Ricardo Viñes (1876 - 1943) going to visit Emmanuel Chabrier during their students years at the Paris Conservatory. They performed Chabrier's Valses romantiques for the composer who wrote in his diary about how impressed he had been by Viñes as a pianist...but that "the other one", who wasn't such a good pianist, certainly "had something".
Indeed he had "something", but the young composer never became a virtuoso pinaist: indeed, he could not himself play many of his own works. Luckily, his old conservatory friend was probably the most important interpreter of Ravel's works. Viñes gave the first performances of the Menuet antique (1898), of Jeux d'eau and the Pavane (1902), of Miroirs (1906), and of Gaspard de la nuit (1909).
A very cultivated man, Viñes introduced Ravel to "Les Apaches", a loose-knit circle of fashionable young men of various backgrounds who would meet on Saturdays at the home of the painter Paul Sordes, in the rue Dulong in Montmartre, or at that of poet and painter Tristan Klingsor in the Avenue du Parc-Montsouris, and later in the studio of Maurice Delage (who was Ravel's first composition student as well), in the rue de Civry in Auteil. The young men would drink, eat, discuss Art and Philosophy, and do surreal things together to amuse themselves. Although Ravel never became an official "member", he became close friends with many of them and was often invited to their gatherings. One of the most important works in Ravel's output which was directly influenced by this group was Miroirs.
Miroirs
This suite of five works was premièred by Ricardo Viñes on January 6, 1906 at the Salle Érard for the SociÉtÉ nationale and was published by Demets the same year.
Ravel intended the work to be a series of five musical portraits of his friends, as each examined his reflection in a mirror. Ravel cites Shakesspeare's Shakespeare's Julius Caesar, Act 1, Scene 2 "...for the eye sees not itself. But by reflection, by some other thing.". In his Esquisse autobiographique ("Autobiographical Sketches") of 1928, Ravel describes the works thus:
"Miroirs are a collection of pieces for the piano which announce a considerable change in my harmonic evolution which has disconcerted many musicians because of my own personal style[...] The title Miroirs has given my critics a reason to count this work in the movement called Impressionism. I will not contradict them, as one can hear this by analogy, but a rather distant analogy because the term 'Impressionism" seems to have no meaning outside of painting. The word "Mirror" should not, in any case, be seen as a will to affirm a subjectivist theory of Art."
(" Les Miroirs forment un recueil de pièces pour le piano qui marquent dans mon Évolution harmonique un changement assez considÉrable pour avoir dÉcontenancÉ les musiciens les plus accoutumÉs jusqu'alors à ma manière. [...] Le titre des Miroirs a autorisÉ mes critiques à compter ce recueil parmi les ouvrages qui participent du mouvement dit impressionniste. Je n'y contredis point, si l'on entend parler par analogie. Analogie assez fugitive d'ailleurs, puisque l'impressionnisme ne semble avoir aucun sens prÉcis en dehors de la peinture. Ce mot de miroir en tout État de cause ne doit pas laisser supposer chez moi la volontÉ d'affirmer une thÉorie subjectiviste de l'art. ")
The five works are:
I. Noctuelles
The first movement of the work is dedicated to writer Léon-Paul Fargue (1876 - 1947). The title refers to a line by Fargue:"Les noctuelles d'un hangar partent d'un vol cravater d'autres poutres." ("The moths in a hangar depart from a flight to tie other beams")
II. Oiseaux tristes
This short work is dedicated to Ricardo Viñes As Ravel put it: "it was fun to dedicate ta piece to a pianist that was not in the least 'pianistic'". (Calvocoressi [1933]). Ravel considered this work to be the most important of the cycle and explained that he wanted to describe "birds lost in the dark forest during the hottest hours of the Summer" ("des oiseaux perdus dans une sombre forêt aux heures les plus chaudes de l'été".)
III. Une barque sur l'océan
The longest work of the cycle, was dedicated to the painter Paul Sordes who was probably one of the two people who helped form Ravel's critical taste during his early years (the other being Fargue). The work is evocative of a boat sailing on the ocean, the arpeggiated sections and a continual wave of tonal attractions imitate the waves and currents.
IV. Alborada del gracioso (Aubade du bouffon)
The fourth piece is dedicated to Michel Dimitri Calvocoressi (writer, author of the texts set in Ravel's Cinq mélodies populaires grecques). This is a very difficult work technically, which imitates aspects of Spanish folk themes and guitar-like strumming in its complex melodic structures.
V. La vallée des cloches
The work is dedicated to Maurice Delage (1879 - 1961) who worked as a clerk, fishmonger and soldier before deciding to become a composer. Ravel proclaimed him one of the supreme French composers of his day This last work in the cycle is bathed in a dreamlike atmosphere, which describes soundings and echos of bells through a subtle harmonic treatment of the musical material.
Sonatine for piano
Although Ravel said in his Esquisse autobiographique that he wrote the Sonatine after Miroirs, it seems to have been written before it, between 1903 and 1905; in a letter of August 1905, after his canal cruise on the Aimée with Misia and Alfred Edwards, he wrote: "I only spent a few days in Paris, during which I finished the Sonatine" ("Je n'ai passé que quelques jours à Paris, durant quoi j'ai terminé la Sonatine..." (Orenstein [1989], letter 24). It was first performed in its entirety in Lyons on March 10,.1906 by Mme Paule de Lestang, and then in Paris on March 31,.1906 by Gabriel Grovlez. Ravel himself later performed this work during his American tour of 1928.
Ravel dedicated the work to his friends Cipa et Ida Godebski, who were originally friends of his father. After Ravel's father died, they effectively became his second family. Ma mère l'oye was written for the couple's two children, Mimie and Jean. The family hosted regular gatherings on Sunday evenings, which were attended by such musicians as Albert Roussel and Florent Schmitt and painters such as HÉnri Toulouse-Lautrec, who painted Cipa's portrait.
The title "Sonatine" is given in order to contrast the work with the large, sprawling romantic sonatas which were still very much in vogue in France at the time. The work is in three movements:.
1. Modéré
2. Mouvement de Menuet
3. Animé
Valses nobles et sentimentales
This sequence of eight waltzes was written originally for piano in 1911. In 1912 Ravel orchestrated them to form the score of the ballet Adélaïde, ou le langage des fleurs, and this version was first played as an orchestral suite under its original title in 1914.
The title makes reference to the Valses nobles and Valses sentimentales by Schubert, and Ravel further explained his intentions: "The title of Valses nobles et sentimentales shows my inttention to write a series of waltzes in the tradition of Schubert. After the virtuosity which forms the basis of Gaspard de la nuit is followed by a much more clear writing, which creates more clearly defined harmonies and a more defined melodic structure." : ("Le titre de Valses nobles et sentimentales indique assez mon intention de composer une chaîne de valses à l'example de Schubert. à la virtuosité qui faisait le fond de Gaspard de la nuit succède une Écriture nettement plus clarifiée, qui durcit l'harmonie et accuse les reliefs de la musique." ( Ravel, [1938]). At the head of the score, he placed a quotation from a favourite poet, Henri de Régnier: "The delicious and ever unique pleasure of a useless occupation" ("Le plaisir délicieux et toujours nouveau d'une occupation inutile".)
The first performance of the piano version was the subject of an amusing anecdote: It was given on May 9, 1911 by the composer and pianist Louis Aubert, to whom the work is dedicated, at the Société Musicale Indépendante in the Salle Gaveau. At this concert the names of the composers were withheld from the audience, who were invited to make their own identifications. When the Valses
were played, there were hoots of protest from the audience, perhaps because of their unclassical harmonies, and some people attributed the work to Satie or Kodaly. As Ravel remembered it "The
Valses nobles et sentimentales
was performed for the first time, amidst protests and boos, at a concert of the S.M.I. where the composers' names were not given. The audience voted for the attribution of each work. My paternity of these Waltzes was confirmed, at a very weak majority. I felt that the seventh Waltz was the most characteristic."
("Les Valses nobles et sentimentales furent exécutÉes pour la première fois, au milieu de protestations et des huÉes, au concert sans nom d'auteur de la S.M.I. Les auditeurs votaient pour l'attribution de chaque morceau. La paternitÉ des Valses me fut reconnue - à une faible majorité. La septième me paraît la plus caractéristique." (Ravel, [1938]).
The eight movements are played without interruption.
Modéré
Assez lent
Modéré
Assez animé
Presque lent
Assez vif
Moins vif
Épilogue: Lent
---
Artist biography :
Pianist Raj Bhimani's concerts are "virtuosic, heartfelt and eloquent," writes New York Times critic Michael Kimmelman. Time Out NY noted him as being a "gifted and highly expressive pianist." Performing regularly across North America and Europe, he also makes frequent appearances in India, where the nationally distributed newspaper The Hindu wrote, "Raj Bhimani is a very sensitive piano player, with a predilection for lyrical melody accompanied with rhythmic gracefulness." In New York, where he resides, he appears often at Lincoln Center as well as at other venues.
Mr. Bhimani is a champion of new music and has developed a particular expertise in French piano literature. During his time studying in Paris he had the opportunity to meet composer Henri Dutilleux, who declared him "a great artist who plays with sensitivity and intelligence." In 2016, to mark what would have been the composer's 100th birthday, Mr. Bhimani gave several performances of his works, including the Preludes, which Mr. Bhimani learned from handwritten manuscripts given to him by the composer before these works were published.
Another prominent French composer, Thérèse Brenet, has written several works especially for Mr. Bhimani. Two of Ms. Brenet's compositions for Mr. Bhimani can be heard on a CD entitled "To the West Wind," on the Delatour label. A disc containing Schubert's B-flat Sonata and Moments Musicaux has also been issued by Delatour. Two more works Ms. Brenet wrote for Mr. Bhimani were issued in 2014 on a disc entitled "Le Visionnaire," released by Musik Fabrik, which has also released a recording of late solo works by Brahms. All these recordings are available worldwide on iTunes, Amazon, and numerous other sites. A new recording of solo works by Ravel is set to be released in the fall of 2018, and Mr. Bhimani has plans to travel to Poland to record two new works for piano and orchestra by Ms. Brenet with the Polish National Radio Symphony.
In addition to solo recitals, Mr. Bhimani also performs with Syrinx : XXII, a group he formed with musicians from Portugal. The ensemble performs regularly in the US, Portugal, and India, and has premiered works written especially for them by composers in Portugal and Germany.
Frequently sought after as a teacher and pedagogue, Mr. Bhimani is known for guiding students from their first encounters with a piano up to concert level performances. His students have earned numerous prizes and have been heard in performance at Carnegie Hall, Alice Tully Hall at Lincoln Center, and other esteemed venues in New York and across the United States. He is a frequent judge and lecturer on piano pedagogy and has served on the board of The Leschetizky Association, an organization committed to upholding the great pedagogue's ideals of beautiful tone production and musical integrity. Mr. Bhimani is grateful to his own teachers: John Steele Ritter, Peter Hewitt, Nicole Henriot-Schweitzer, Claude Frank, and Seymour Bernstein.
Follow Mr. Bhimani's activities at his website, www.RajBhimani.com, like his page on Facebook, or subscribe to his channel on YouTube.
---
credits :
Produced by Joseph Patrych and Raj Bhimani
Recorded at Martin Patrych Memorial Studios in November 2012 and May 2017.
Piano: Hamburg Steinway CD 147
Piano Technician: Kenneth A. Farnum, Jr.
---