Musiques pour des Éspaces Sacrées
---
---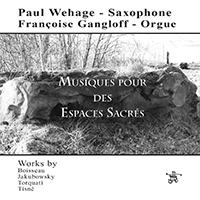 Musiques Pour des Éspaces Sacrés : Paul Wehage, Saxophone, Françoise Gangloff, Organ (2015 rel; CD recording)
Contains Antoine Tisné : Monodies pour des Éspaces Sacrés I, II, et V,Jean-Thierry Boisseau : Nocturne : In Memoriam Antoine Tisnés , Jean-Thierry Boisseau : Suite Transcaucassienne , Pascale Jakubowski : Deux Prléludes, Pascale Jakubowski : Deux Prléludes, Pascale Jakubowski : Deux Prléludes, Antoine Tisné : Pasolmodies, and Jean-Thierry Boisseau : Élégie,
performed by Paul Wehage, Saxophone; and Françoise Gangloff, organ

The complete notes are on this page
JTBProd (Catalogue #JTBProd006)

Available here :
Euro 9,95 (plus Euro 4,50 frais de port)
and from your local record dealer and all online sources where recordings are sold.
Select an online location for purchase:
---
English Notes :
This CD is comprised of works performances in different places. These works for solo saxophone and for saxophone and organ take into account the acoustics of each particular sound space in different ways.
The works for saxophone and organ were mainly recorded at the Church of Saint Roch in Paris. The work for saxophone and organ was recorded at the German Church in Baku, Azerbaidjan. The final work was recorded at the Temple of the Reformed Church of France in Lagny-sur-Marne. It should come as no surprise to have different acoustics in the course of this recording.
Most of these works were dedicated to Paul Wehage, who commissioned and premièred these works.
Even though Paul Wehage is currently participating actively in the renaissance of the 19th century repertoire of the Saxophone, he is also profoundly interested in contemporary music (especially since he is a slo a composer) outside of the world of Jazz. He regularly premieres new works written by composers, women as well as men, who are very much alive and active.
His work with the titular organist of the Church of Saint Roch in Paris Françoise Levéchin-Gangloff allowed them both to discover the extraordinary complementarity of their instruments which blend so incredibly that one sometimes hears that the saxophone is another stop in the organ. Only the regular wind of the organ allows the saxophone to express its unique and autonomous sonority.
These recent work for solo saxophone or saxophone and organ are products of their time in that they are liberated from any musical pressures in which, through their deadly and obscene sectarism and ideological terrorism, empty concert halls of listeners who are tired of hearing the same formulas and obsessional procedures which have long ago become infertile.
These works share the absolute liberty of their composers, their stylistic differences, their confrontations, their allusions to older traditions without resorting to charming yet obsolete recipies of neoclassicism. They have all the utmost aim of expressing poetry and lyricism in all of their forms.
Antoine Tisné
Monodies I, II, et V pour un espace sacré
for solo alto saxophone (V, II) or soprano saxophone (I)
The works entitled Monodies pour des espaces sacrés are a series of works for solo monophonic instruments (flute, oboe, English horn, horn, tuba, ondes Martenot, saxophone . . . ) which describe that which the composer call 'biblical landscapes'. The Monodie V is a kind of incantation, which serves to consecrate a space as a 'sacred space'. The acoustics of the place are used to create polyphonic effects. The Monodie I for soprano saxophone is more bracing and violent. The Monodie II is more meditative.
.
Jean-Thierry Boisseau
NOCTURNE
for solo soprano saxophone
This was the first piece that Jean-Thierry Boisseau wrote after a long period of inactivity due to his lack of enthusiam for a certain type of French contemporary music, which was the only style allowed during the 70s to the 90s; Needing the advice of a known composer, he presented the work to Antoine Tisné, who made a few corrections and then told the composer that he had nothing further to teach him. Tisné accepted the dedication. This is a long musical phrase which goes through various moods in which a solitary spirit expresses itself. Sweetness, violence, melancholy, irony, these sequences which, as if in the midst of an objective view, several passages which seem to be unrelated give rise to an intimate story which only the music can tell, since there is a beginning and an end to this piece firmly rooted in poetic thought.
Jean-Thierry Boisseau
SUITE TRANSCAUCASIENNE
Six études de virtuosité pour saxophone alto seul
These six pieces were composed after the composer's third trip to Baku, Azerbaijan. These are sketches which have the objective of expressing impressions felt on visiting sites in several places in Azerbaijan. This is not to say that this piece seeks to express any sort of Eastern musical sentiment nor any sort of union between Eastern and Western musical thought. This sort of musical thought is less of the type of musical mixture such as one might find in Turkey as it is something closer to the unique musical spirit of Azerbaijan, the petroleum capital of the Caspian which attracted many foreign visitors at the beginning of the 20th century and which became the Soviet Capital of Jazz. The titles, as is the case in this type of piece, speak for themselves. The composer wished to avoid any type of musical use of numbers, so there are six pieces and not seven...
Pascale Jakubowski
Deux Préludes
for solo saxophone
These two preludes by Pascale Jakubowski are in a contrasting styles. The first prelude begins with a rapid passage in the lowest register of the instrument which is developed in all the registers of the saxophone to finish in the extreme high range. The second prelude uses the saxophone's possibilities to use quarter-tones in an expressive recitative.
Sara Torquati SaxSolo for solo saxophone
Paul Wehage met Sara Torquati during the first edition of the Donne In Musica Festival in Fiuggi, Italy in 1996. Sara Torquati gave him this expressive work which exploits the lyrical possibilities of the saxophone.
Antoine Tisné :
Psalmodies
for saxophone and organ
This work in four movements may be seen (as is the case of many works by Antoine Tisné) as a sort of musical voyage "out of the shadows and into the light." The piece alternates between exclamations from the saxophone, punctuated by outbursts from the organ The third movement is in a progressively more complex linear style. After several contrasting episodes in the fourth movement, the piece ends in a final dramatic outburst.
Jean-Thierry Boisseau
ÉLéGIE
for solo alto saoxphone
This piece was written shortly before the funeral of Philippe Romeo film-maker and the spouse of the composer's niece. It was premiered in November, 2012 at Père Lachaise cemetery in Paris. Even if the piece is not a formal Kaddish, it serves as a kind of cry without pathos to express an indefinable pain.
Notes en français
Ce disque est entièrement constitué d'enregistrements effectués au cours de concerts dans des lieux différents. Les œuvres pour saxophone seul et celles pour saxophone et orgue, prennent donc en compte, l'acoustique de ces lieux , en jouent ou s'en déjouent.
Les œuvres pour saxophone seul ont été enregistrées en l' église Saint-Roch de Paris le. L'œuvre pour saxophone et orgue a été en l' église allemande de Bakou, Azerbaïdjan lejour de la Fête de Novruz, l'une enfin dans le temple de l'église Réformée de France de Lagny sur Marne. Il ne faut donc pas s'étonner d'être confronté à des ambiances sonores diversifiées.
Les pièces pour saxophone seul sont toutes dédiées à Paul Wehage qui en est le commanditaire.
Bien que le répertoire 'ancien' c'est à dire du XIXme siècle soit en cours de redécouverte et ce principalement par Paul Wehage lui même, ce dernier s'intéresse très vivement à la musique contemporaine (il est lui-même compositeur) hors jazz, et participe ainsi par les créations qu'il en fait régulièrement à la promotion d'œuvre de compositeurs indifféremment hommes ou femmes mais surtout et avant tout vivants...
Sa rencontre avec Françoise Levéchin-Gangloff organiste titulaire du Cavaillé de Saint-Roch a fait découvrir, à l'un comme à l'autre l'extraordinaire complémentarité sonore des deux instruments qui se fondent étonnement au point de laisser penser que le saxophone est un jeu de l'orgue. Seul, le souffle de l'instrumentiste différent du vent régulier de l'orgue permet au saxophone de garder toutefois son autonomie sonore.
Ces œuvres récentes pour saxophones seul ou saxophone et orgue sont en tous points de leur temps en ce sens qu'elles sont libérées de toutes ces pressions moribondes qui ont, par leur obscénité sectaire, leur terrorisme idéologique, vidé les concerts d'auditeurs lassés de formules et de procédures obsessionnelles devenues infertiles.
Elles ont en commun la liberté absolue de leur auteurs, les digressions stylistiques, les oppositions, les rencontres, les hommages aux musiciens anciens sans pour autant reprendre la recette charmante et obsolète du néo-classicisme, elles ont surtout un goût immarcescible pour la poésie et le lyrisme sous toutes leurs formes.
Antoine Tisné
Monodies I, II, et V pour un espace sacré
pour saxophone alto ou soprano seul
Les Monodies pour des espaces sacrés sont une série d'oeuvres pour des instruments monophoniques seuls (flûte, hautbois, cor anglais, cor, tuba, ondes martenot, saxophone . . . ) qui décrivent ce que le compositeur appellait 'les paysages bibliques'. La Monodie V est un sorte de musique incantatoire, pour consacrer une espace comme 'espace sacré'. L'acoustique de lieu est utilisé pour créer des effets de polyphonie. La Monodie I pour saxophone soprano est plus âpre et violente. La Monodie II est plus réceuille et méditative.
Jean-Thierry Boisseau
NOCTURNE
pour saxophone soprano seul
Cette pièce est la première que le compositeur composa après des années d'une abstinence due au peu de goût que il avait pour la musique de son époque à de rares exceptions, de rares compositeurs, libres et dégagés de toute pression, idéologico - musicale. Ayant besoin en tant qu' autodidacte de l'agrément d'un compositeur chevronné il la présenta à son ami Antoine Tisné qui apporta une ou deux corrections en l'expliquant bien que ce serait la dernière fois, car me dit-il il n'avait rien à lui apprendre. Il en accepta la dédicace. Il s'agit d'une longue mélopée qui passe par diverses sensibilités qu'un esprit momentanément solitaire expérimente. Douceur, violence, mélancolie, ironie, autant de séquences qui comme dans un esprit un peu vacant s'enchaînent des pensées apparemment sans suites, alors que de l'une à l'autre on construit une sorte d'histoire intime et que la musique plus que la parole s'emploie à raconter, car il y a bien un début et une fin à cette pièce dont le terreau est avant tout poétique.
Jean-Thierry Boisseau
SUITE TRANSCAUCASIENNE
Six études de virtuosité pour saxophone alto seul
Ces six pièces ont été composée au retour du troisième séjour du compositeur à Bakou. Il s'agit de croquis qui ont pour but principal d'exprimer les sentiments, les impressions ressentis en divers lieux d'Azerbaidjan. Il ne s'agit en aucune manière de chercher à intégrer un exotisme musical oriental à une pensée musicale occidentale même si l'on doit considérer que la solution de continuité culturelle en l'Orient et l'Occident ne se produit pas comme on l'imagine en Turquie mais bien en Azerbaidjan et en particulier à Bakou, ville pétrolière qui attira dès le début du siècle dernier des colonies entières d'européens, avant, sous le régime communiste, de devenir la capitale soviétique du Jazz... Les titres comme toujours dans ce genre d'exercice, parlent d'eux- même . Le compositeur a voulu à tout prix ne pas sombrer dans la prétendue magie des chiffres. Il n'y a donc que 6 pièces et non 7...
Pascale Jakubowski
Deux Préludes
for solo saxophone
Les deux preludes de Pascale Jakubowski sont de carateur contrasté. La première prélude commence avec un passage rapide dans l'extrême grave de l'instrument, qui est developé à travers toutes les registres du saxophone jusqu'à l'extrême aigu. La deuxième prélude exploit les possibilités du saxophone de utiliser les quarts du tons dans un récit expressif.
Sara Torquati
SaxSolo
for solo saxophone
Paul Wehage a rencontré Sara Torquati pendant la première édition du Festival Donne In Musica à Fiuggi, Italie en 1996. Sara Torquati lui a confié cette oeuvre expressive qui exploit les qualités lyrique du saxophone.
Antoine Tisné
Psalmodies
pour saxophone et orgue
Cette oeuvre en quatre mouvements pourrait être vue (comme beaucoup des oeuvres de Tisné), comme une sorte de voyage musicale 'à travers les ombres vers la lumière'. La pièce alterne entre les exclamations du saxophone qui sont interrompu par les échanges avec l'orgue. La troisième mouvement est dans une style de contrepoint qui est progressivement plus complèxe. La quatrième mouvement contient des épisodes du carateur divers et se termine par une déclmation dramatique finale.
Jean-Thierry Boisseau
éLéGIE
Pour saxophone alto seul
Cette pièce a été écrite en peu de temps en prévision des obsèques de Philippe Romeo cinéaste et compagnon de la nièce du compositeur. Elle a curieusement été créée en novembre 2012 au cimetière du Père Lachaise à Paris. Même si elle ne respecte pas la forme canonique du Kaddish, elle tient comme une sorte de plainte sans pathos à en exprimer la douleur indicible.
---
Artist biographies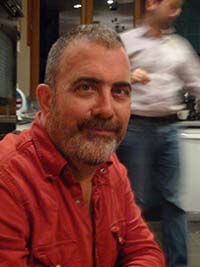 Composer, conductor and saxophonist, Paul Wehage is a complete musican. After his studies at the University of Texas and at the Paris Conservatory (1st prize in Saxophone in 1990), he began his career as a concertiste, performing throughout Europe, Asia, and North America. Several generations of composers have wirtten pieces specially for him, from Jean Françaix to Carson Cooman. His own catalog of nearly a hundred works includes chamber works, works for solo instruments, vocal works, choral works and orchestral music. Since 1997, he has directed Music Fabrik Music Publishing where he has amassed a catalog of over a thousand titles; He currently directs the Town Bands of the cities of Lagny-sur-Marne and Clichy-La-Garenne in France.
---
Compositeur, chef d'orchestre et saxophoniste, Paul Wehage est un musicien complet. Après des études à L'Université de Texas et au CNSM de Paris (1er prix en Saxophone en 1990), il a entammé de concertiste à travers l'Europe, l'Asie et l'Amérique de Nord. Plusieurs générations de composteurs ont écrits spécialement pour lui, de Jean Françaix à Carson Cooman. Parmi ses propres oeuvres, on peut citer des oeuvres de chambre, des pièces pour instrument seul, de la musique vocale et chorale et de la musique pour orchestre. Depuis 1997, il dirige Musik Fabrik Music Publishing, maison qui gére plus que mille titre. Il est directeur des orchestres d'harmonie des villes de Lagny-sur-Marne et Clichy-la-Garenne.
---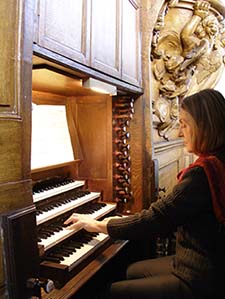 Françoise Gangloff leads a double career as a teacher and a performer. Her work leads her to work with modern composers ( Tisné, Clostre, Escaich etc ) A composer, Françoise Levéchin-Gangloff is also a noted improviser. The Organist at the Church of Saint Roch in Paris, Françoise Gangloff studied at the Paris Conservatory ( piano, sight-reading, harpsichord, composition and organ) and at the Sorbonne where she received a diploma in Musicology. Her main teachers for organ were Gaston Litaize and Rolande Falcinelli.?.
---
Françoise Gangloff mène une double carrière de pédagogue et de Concertiste . Elle consacre une grande partie de son art à la création d'œuvres contemporaines ( Tisné, Clostre, Escaich etc ) Compositrice, Françoise Levéchin-Gangloff est aussi une des rares organistes femmes qui se consacrent à l'improvisation. Organiste titulaire du Grand-Orgue de Saint ROCH à Paris, Françoise Gangloff a fait ses étude musicale au Conservatoire National de Musique de Paris ( piano, déchiffrage, clavecin écriture et orgue) et à la Sorbonne où elle a obtenu le diplôme de musicologie. Elle a travaillé l'orgue avec Gaston Litaize et Rolande Falcinelli.
---